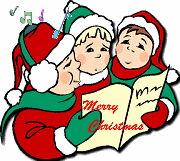 This is how it works; you leave the link to your journal here and then do an entry on your favorite holiday song. Visit at least 5 journals who you believe will play along ... my goal is to go to as many as I can & make a hundred new friends. =D When you visit their journals leave your link in their comment section & of course wish them Happy Holidays.
Have a very blessed holiday season. from my house to yours ... Merry Christmas!
..here is my all time favorite Christmas song ...